Post by Devi on Feb 27, 2012 22:30:29 GMT -5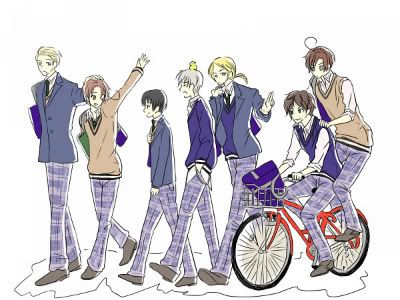 First off, welcome to
Hetalia World Academy
, a private school for the intellectual and adventerous. Situated in a quaint, traditional town in the heart of Switzerland, this large and gorgeous academy would give the perfect opportunity for international students to have cultural exchanges and hopefully strengthen their bonds faraway from the distractions of their own homes. Whatever the starting point at Hetalia World Academy the staff have high aspirations for their students. Through an adventurous approach to learning the Academy's aim is to ensure that students are articulate, confident and fluent with excellent social skills and a secure moral framework and, at the end of their school career, gains a place at one of the world's leading universities.
The 21st Century marks the dawn of a new era. One built up of revolutionary technology that only existed in the world of Sci-Fi, or in the dreams of impeccably sad computer nerds previously... No doubt, this century has brought with it a great number of discoveries and wonders, which have shaped the world that we live in today, for better or for worse. With the world of industrialisation and politics left in the dust, leaving havoc and mass destruction in it's wake. A world in which climbing up that social ladder is everything, and anyone who disagrees will be shot dead in their tracks. Because at the end of the day, this is a high school, although recently it has become clear that this new world in which they are now immersed, is not quite as normal as they thought.
Despite the friendly exterior, countless rumors have been spread throughout the school over time, rumors of a series of supposedly long-forgotten events that changed the course of the school's history, for better or for worse....
A number of vicious and spontaneous muders and suicides have bathed the walls of the forbidden Left Wing and Attic in a sea of red, shocking not only to those who enter but to the surrounding town as well. They say walking down those halls inspires a sickness in the minds of the young students that causes delusional fantasies most gruesome and violent. It's even rumored some students vanish suddenly!
Of course this has sparked numerous tales of hauntings that run rampant through the school, but why don't you determine the truth for yourself?
Sounds like fun, no?
Well, maybe not… because with so many different cultures, ages and ways of thinking crowded into one school at all times, there's bound to be clashes and arguments faster than you can blink. Good things, and also bad things may come out of everything they see here. It's pure disorder! How will everyone survive this with no way out of the country and seemingly no escape from the school until the end of the year?
Some could be pleased by this, while others faced misery wishing still for power and greed, or simply the simple comforts of their own homes, but either way, there's no going back now.
Well I guess we'll just have to sit back and watch the chaos unfold.